I didn't include a holiday letter in our Christmas cards, but thought that I would journal the happenings of the year and post it here. (Note that I said I would journal it here, and none of it is new news to you that read this blog, so if you get through this lengthy "letter," kudos.)
2010 has been one rollercoaster of a year, but then again, when is life not?
Chandler has grown and developed so much and has actually become quite witty. We are constantly laughing at the funny and cute things he says and I need to be better about writing them down because it seems like I forget so easily. He really loves to play video games, and we have to watch him sometimes that he doesn't play too long because he'd play all day if you let him. He also really loves arts and crafts and when he's doing them his attention span is quite good. He loves to paint and help me cook. In fact, I find when he helps me cook, he's better about eating his dinner because he feels like he made it too.
This year was his second year in primary, he was in the CTR4 class. We really struggled a lot of the year, and it finally seems like he's gotten better but it's been a long time in coming. I don't think that it helped when I got put into primary at the first of the year and it triggered his emotions even more seeing me standing at the back of the primary room.
He's very independent and can make his own corn dogs and cereal, has finally started to have an opinion about what he wants to wear, and is great at picking up after himself a lot of the time.
He's still very active, likes to run and jump, play battle with dad, and just flat out be a boy. Toys he likes are transformers, puzzles, games, and trains. He's so sweet and loves to cuddle and show love. It's interesting because he was SO not cuddly when he was younger, and now if we are watching a movie, he wants hugs and to snuggle. I love it. It's amazing that he's already 5 and how fast the time goes. He and Rowan are starting full time 2 day a week preschool in January and it will be great prep for kindergarten next fall.
Rowan's year started out rough. He's battled with asthma since 7 months and was hospitalized in February with RSV. We stayed there for 2 days while he fought to keep his oxygen up. I guess I should be grateful he didn't get it as a baby, because I'm sure it would have been much worse. Most kids are fine with RSV at home when they are 2, but Rowan wasn't. He was on a ton of meds at the first of the year, and he's slowly been weaned off of them. I haven't given him a neb treatment in probably 6 months, but then again he hasn't really been sick which is when he really gets wheezy. I hope this winter will be more mild so he can breathe well.
We watched Rowan go from very cuddly to also independent over this year. I think a lot of it had to do with his pacifier. He's always had a hair fetish, and had to hold hair while he had his paci in, but once we got rid of it in September, he didn't want to cuddle or hold hair anymore. Kind of sad. Row's been a bit of a slow talker like Chandler was but is saying more and more. It's nice that he's able to express himself better, but has always been a screamer and still is. He likes to play with Chandler, but also fights with him about half of the time. He's started to really fight back and Chandler often has lots of scratches from Rowan. We have introduced the naughty spot, but I don't think it's quite clicking yet that he can't scratch. He's not potty trained, but I'm not rushing anything. When he shows more interest, we'll pursue it.
He's so adorable, growls when he gives bear hugs, and is quick to give kisses, which I love. He likes to sing nonsense to himself and enjoys watching shows and playing outside. He also loves loves animals and we've contemplated getting him a cat. We're still on the fence on that one.
Marshall started the year pursuing his business, Pivo Web Marketing. He had some clients but wasn't making as much as he'd like so he looked for a job elsewhere. In February, he got hired at Speed of Trust, which is under the Franklin Covey name. He does e-mail marketing for the book "Speed of Trust" by Stephen M.R. Covey. He really likes the people he works with but sometimes feels like he doesn't get to contribute as much as he wants. I think it's something that will come with time. It's really amazing how motivated and how much initiative he has. I think if half of people put as much into their job as he does, this world would be a much better and efficient place. It's been a great company, and we've seen tons of blessings from it. He's also got another business, ACN that we are doing on the side and it's been fun to see him excited about that.
He's the most amazing dad to his boys, cooks when I don't want to, and cleans like a mad man. :)
He was serving as ward missionary leader most of the year, and was recently called as Sunday School President. He's loving the calling so far!
It would be an understatement to say this year has been amazing and full of opportunity for me. I started seeing so many doors open on my blog, Babes and Kids Review, and it's been such a huge blessing. I've reviewed everything from toys to vacuums, received numberless gift cards, and even made a few thousand this year. I also got to attend two movie screenings - one in New York City, and one in Austin, TX for Walmart & P&G. In May, Pampers flew our entire family out to Cincinnati, OH. I toured headquarters while the boys and Marsh went to a fun museum. In November, I went to Boston, Massachusetts to TJ Maxx/Marshall's headquarters for a holiday preview and it was fun to meet new friends. I love blogging, having a voice, and the opportunities it's given me. Plus I've been so many new places this year!
In March, I applied to an ultrasound program partnered with Intermountain Health Care and Salt Lake Community College. It's something I've wanted to do, but was put on hold as I got pregnant with Chan when I was finishing my 4 year degree at BYU-I. I decided to apply and out of 300 applicants, and 100 that interviewed, I was one of 16 that got in! I started this Fall, and it's been an adjustment getting back into school mode but I love it so far. I will be done in August of 2012 and start clinical next semester.
I took up running this year, and surprised myself at how far I could go. I ran a half marathon in June with my mom, sister, and two brothers. In September, I ran a FULL marathon with my oldest brother. It was hands down one of the hardest things I've ever done, but so amazing to me that I was able to accomplish it. I plan on running more races, but probably not a full marathon.
I'm still working in the ER as a clerk 2 nights a week and will cut back to 1 come January so I can focus on school and have some time with the family.
I'm serving in the Primary Presidency as Secretary and it's been a challenge for me to stay organized, but I love it and the women I serve with.
I know you are looking at everything I have going on and think that I have it all together, but I definitely have my breakdowns. Luckily I have a very great hubby that will listen to me blubber and cry until I feel better. :)
Marsh and I were also able to go to the Bahamas at the first of December for 8 days. It was so amazing, and definitely needed.
From our home to yours, Merry Christmas.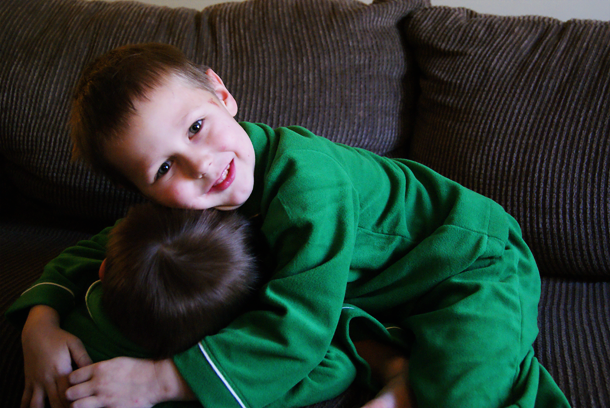 (Our attempt to get a picture of the boys in their Christmas jammies....yeah right. At least Chan tried. :) )