As I mentioned in a previous post, last month we headed over to Lincoln City for our first ever Nielson Family Reunion. I'm the 5th of 6 kids, so since we are all grown and older, sometimes it's hard for everyone to get together, thus the family reunion. It had been in the works for almost a year, thanks to my sister Jeralee. She did an amazing job finding the house, planning, and coordinating with all of us to make this a success. We spent 3 nights in this beautiful 8 bedroom house.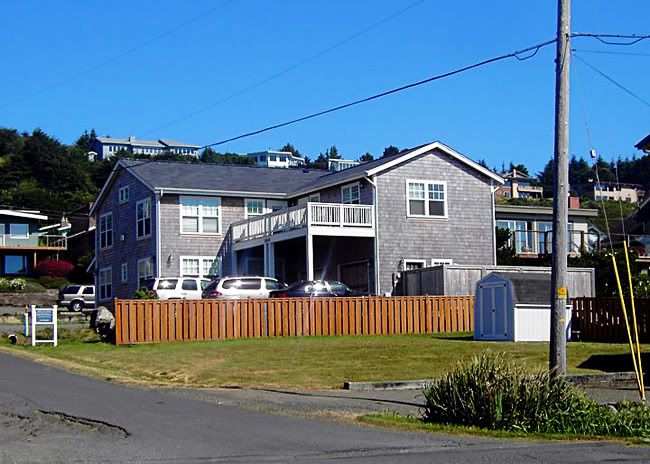 It was close to the ocean and was nice that we all had space of our own. I was and had been battling a cold for almost a week by the time we got there, and it didn't get much better when we were there. We got there Thursday night and were able to celebrate my mom's 61st birthday. Friday morning, there was a fish pond for the kids, which was of course a big hit.
The second day that we were there, it was an absolutely beautiful beach day. It started out quite foggy, and turned out to be clear and quite warm for the Oregon coast. Plus there wasn't any wind, which was a definite plus. We spent the entire afternoon down playing in the sand, and the kids braved the cold water and played in the ocean. There was some kite flying as well.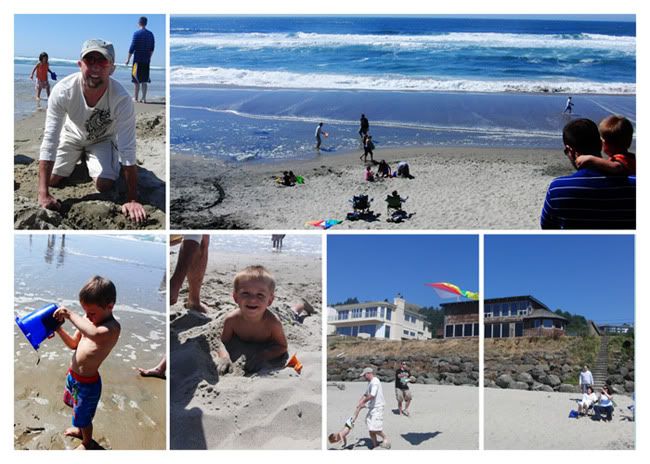 It was funny how much our boys loved being buried in the sand. Probably because it was warm and something different. Marshall buried them facing each other, and it was so cute. They just smiled and talked to each other. It was also a great time to be with my mom and sisters. We are all pretty close, but don't get to be all together that often, especially since Jeralee is a 13 hour drive.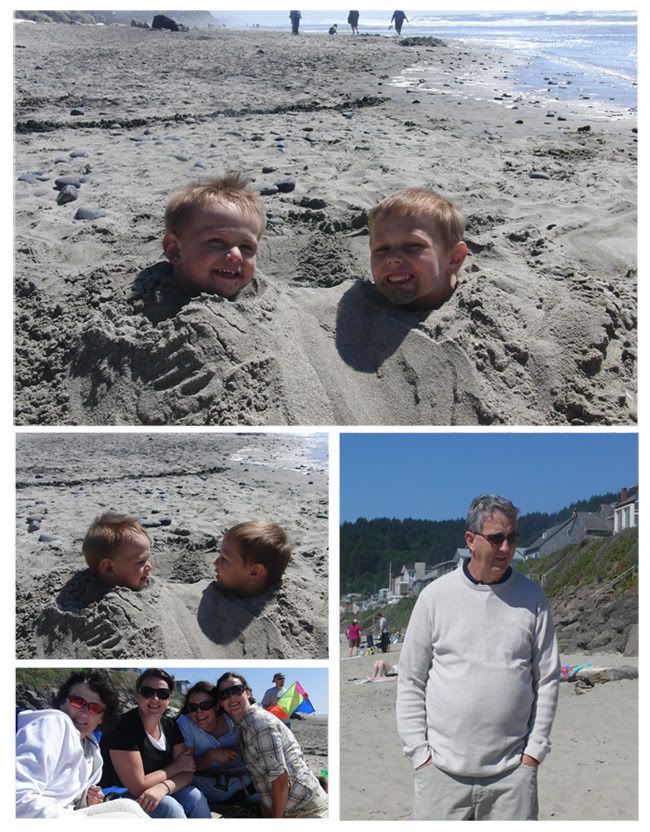 That night, we played some games that Avry coordinated. I didn't get any pictures, but have quite the video from it. There were pudding eating contests, unwrapping bubble gum with only our teeth, and a lifesaver game. Saturday morning, we drove out to Drift Creek Falls, where we hiked about 2 miles in and 2 miles back. The boys did really great, and had to be carried at times, but I was impressed that they could do a hike like that. It was really pretty the entire way in, and of course the suspension bridge and falls were way cool.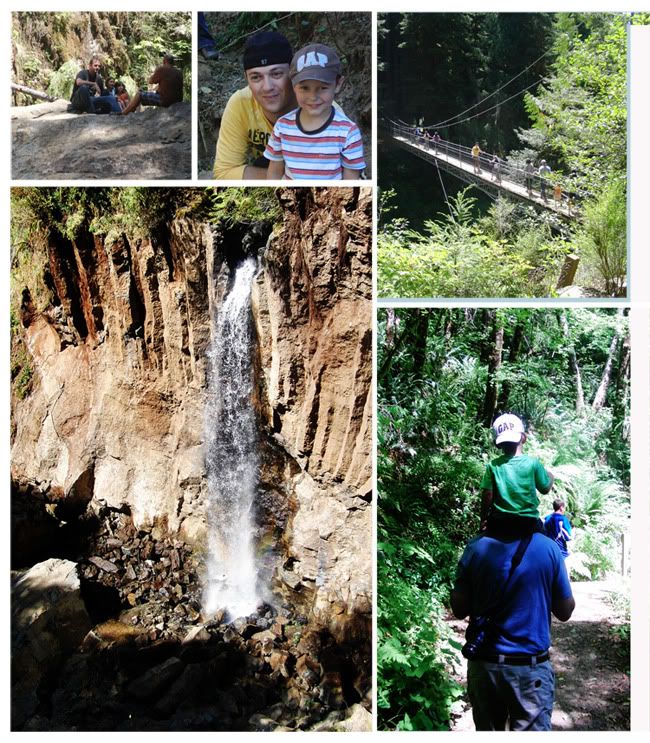 After our hike, it was off to dinner at Mo's, a popular chowder house there in Lincoln City. Chowder is just plain awesome on the coast, because it's fresh. :)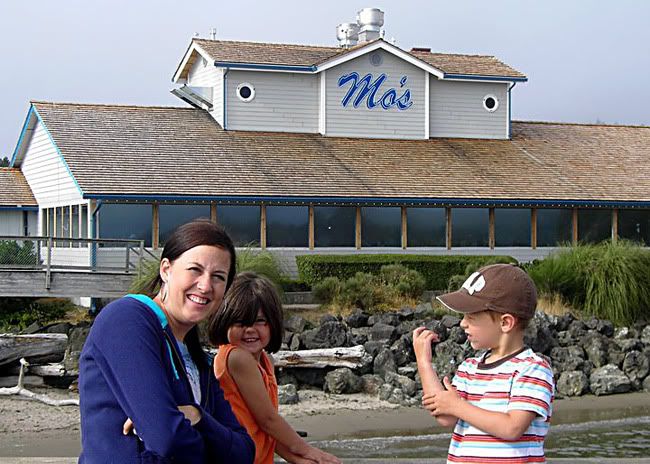 Saturday night, we did karaoke, and spent more time visiting. The entire weekend was full of so many laughs, good times, tons of food, and great memories. I'm really grateful that I have such a close knit family and that we all get along. I hear of other families that have a falling out and don't talk to their parents or siblings. Sad. I couldn't imagine not being close to mine.
Sunday morning, we cleaned up and headed out. We got a few group pictures, but I haven't seen them yet as my dad took them. There are tons of other pictures I wanted to post, but there were so many, it was hard to choose. Can't wait for our family reunion next year. There was talk of Sun Valley, ID, but we shall see.