You might think I'm weird, or even a little gross for posting this, but oh well. Of course if you are reading this blog, chances are you are already my friend or a family member and read even when I post dumb/gross/weird things. On with it already, right? When I ran my half marathon in June, my one big toenail was just a tad too long. It throbbed for 2 days after. Turned purple, and it's been in the process of coming off for 5 months now. The other day before church, I dropped a binder on my toe and the nail pretty much came off. This is what was underneath. It looks like I had another nail growing underneath the nail. Pedicure anyone? (I made sure to make the picture super big for your viewing enjoyment.)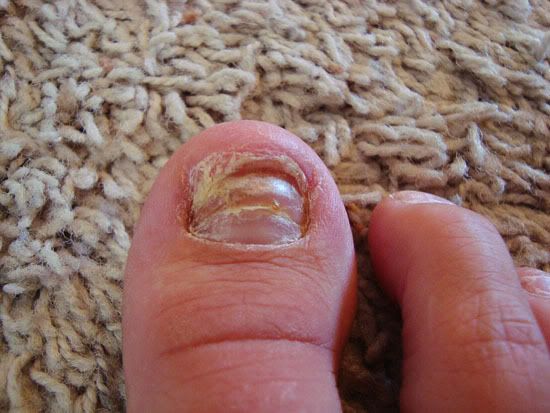 Reminds me of a sign I saw when I ran my marathon, "Toenails are for sissies." I agree. It is quite pretty as well. ;) Now that it's getting cooler, I haven't been running much. I so want a treadmill and find myself dreaming of one...
I promise I won't leave this post up at the top for too long. The picture is quite beautiful, but there's some birthday pictures and videos I need to edit.