It seems like the weight is going to be a little more stubborn coming off this time than it was with Chandler. Granted I never got completely back to my pre-pregnancy weight, but within 5 lbs. This time I'm determined to lose it all and I've actually started to have some will power. I think like my sisters I am all or nothing when it comes to working out. I like to have a good workout and push myself really hard. It's the eating that's the hard part. I decided to start limiting my calorie intake and just eat things that are good for me. Sure, I have to have more calories since I am nursing but I've decided to make them healthy ones. I did really good eating this whole weekend and am starting to feel better too. Although I did have a moment of weakness tonight as I was craving chocolate peanutbutter squares and had to make them. I ate one huge one and felt like I wanted to puke afterwards. However, I have found good alternatives that don't have as many calories. Jello pudding packs are right around 100 calories and they also make a cheesecake cup with cherries that are 130 calories. Here is Chandler enjoying his pudding cup with me on Friday. Yes, he needed a bath afterwards.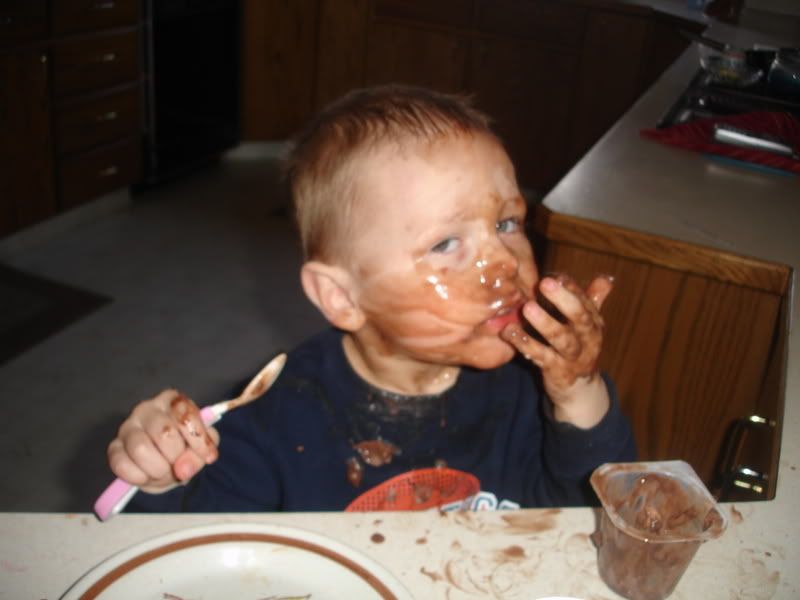 My sister also told me about the sugar free jello cups that are only 10 calories- nice! My last sweet snack of choice - Dryers slow churned ice cream! Only 120 cals for 1/2 cup! Nice that I can still have a sweet treat without packing away tons of fat and calories. Anyways, trying to practice a calorie cut, eat smaller portions, cut out empty calories, and make nutritious meals. I made
Baked Salmon with Tomatoes, spinach & mushrooms
the other night and it turned out great. I'm not a huge fish fan but I like it occasionally. If any of you have any favorite healthy recipe's, please share!
I also decided to invest in a couple new workout videos. My parents have an exercise room here at their house that has a home gym, treadmill, exercise bike and a few free weights. I go out there to do strength training but cardio on a treadmill gets old fast. I have some Billy Blanks Taebo videos which are actually a great workout if you do the advanced ones but I needed something new. I went to my good friend ebay to try to find some bargains. I ended up getting Shaun T's
Hip Hop Abs
 .  It was one that I saw on an infomercial at 2 am one time when I couldn't sleep and ended up watching it for over an hour. Here's their claim:
Ok....so correct me if I'm wrong, but I don't think Shaun T has had 2 kids and stretch marks to show for it. I don't think my abs will quite ever look like any of those girl's abs on the video, but I proudly wear my "tiger claws" with honor as I have the most beautiful boys to show for it.
 It is actually a really fun workout and you can feel it by the time you are done.  Chandler and Rowan love it too, lol.  I put it in and they were both jammin out on the couch.  By the time I went to get the camera though, this is all I got.  Oh well :)
The other video I got was
Biggest Loser Cardio Max
 .  Another good workout with Bob,  Jillian &  Kim.  They each do their own segment but I must say Bob & Jillian's parts are much harder.  My legs were killing me as Bob has you do jumping lunges in his segment.  
All in all, this extra weight is going to come off!  I haven't gotten a new swimsuit since Marsh & I got married almost 4 years ago.  (I don't think the maternity one I bought 2 years ago counts)  So - I get down to my goal weight and I get a new swimsuit...seems simple enough?  (yeah right...) I have 11 lbs to go and I'll keep you all updated on how it goes.