So we are in what I like to call "hangout mode"  meaning we don't have a lot of obligations right now and are getting to spend some time together as a family.  Marshall is still doing some fine tuning for the AAF presentation next week in Portland so he has still been spending some time up at the school.  However, we are seeing lots more of him now that he has graduated.  He's still looking for a job and had a couple opportunities fall through this week which was hard but he has some other places he's interested in.  Why is it so hard to get a job?  I guess it's a little bit of a blessing in disguise though as Marshall will be working the rest of his life, and he's getting a nice break right now.  It's been fun getting to spend some time together and just doing random things.  We'd be headed outside more but we still have this cold that is lingering and as you will notice in the picture below, we got about 3 inches of snow yesterday, go figure.
Yesterday Marsh was showing Chandler some videos on youtube and he came across this one with animals and a little kid singing in French.   Chan is definitely an animal lover.
Chandler also has a few new obsessions - a hat and his bear slippers.  He had a couple hats last summer but we lost them both.  We bought him a hat the other night and he wants to wear it everywhere. It is the hat he is wearing in the video above.  He takes it to bed and even kisses it when he takes it off.   
Rowan is doing well, I'm thinking I might go get his pictures done tomorrow or the day after - he will be three months!  Where does time go?  He's developing more and more personality and is working on rolling over.  He can get to his side but hasn't made it all the way over yet.  He's also been drooling like crazy and I won't be surprised if he gets teeth early.  Chan's bottom two cut through just after 5 months. He also caught a bit of this cold we all have. He managed to hold out for almost a week (thanks to mommy's antibodies)  but started getting a little cough yesterday. It's not too bad yet, but we'll keep an eye on it.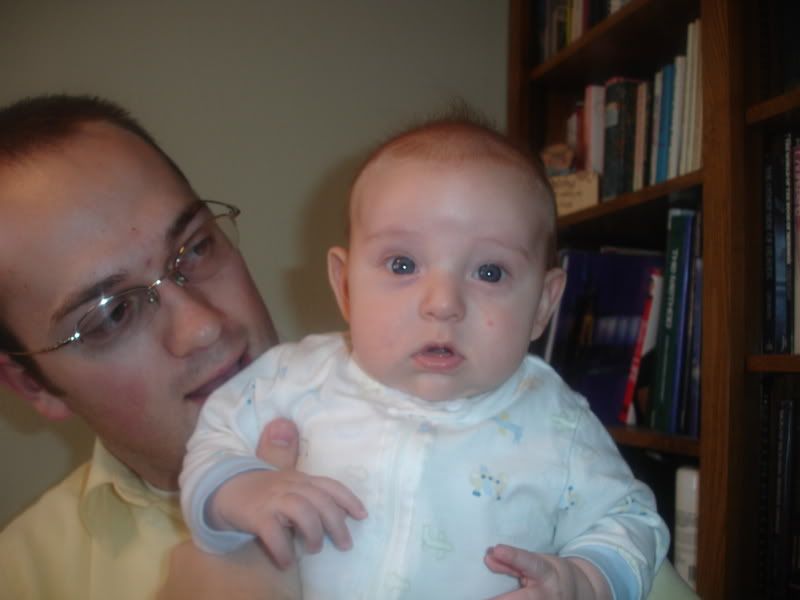 I'm realizing now what a random post this was, but I guess in a way our lives are a little random right now.  I guess we'll continue to stay in hangout mode until Marshall finds the "perfect job"  Keep us in your thoughts and prayers...thanks :)