First off - A VERY HAPPY BIRTHDAY to my older brother CLINT who turns 29 today - Happy Birthday!!
Thanks everyone who posted on our last post: "Who's reading?" It's fun to know that people we know are reading even if you don't always comment.
I've mentioned in the last few posts that we've been fighting a cold and it seems to be getting worse.  Marshall is ok now but the rest of us just can't get over it.  We went to the dr. today to figure out what is wrong.  Chandler has bronchitis and an ear infection in his right ear.  This is the first time he's had an ear infection that we've known about and he hasn't really acted like his ear has been bothering him so I was a bit surprised at this.  I have a sinus infection - surprise, surprise.  Rowan has lots of mucous draining down his throat and a cough & was tested for RSV which came back negative, thank goodness.  Rowan isn't on any antibiotics since he is so little but we'll just make sure to  keep running the humidifier, using lots of baby vapor rub, and giving him tylenol when he needs it.  The dr. said we probably have all these problems because we've had the cold virus so long that it developed into other things, alas the bronchitis, ear infection & sinus infection.  Chandler and I are on antibiotics now so hopefully we will start feeling better soon.  I'm glad we got it all figured out though as I have to work this weekend and that's hard to do when you aren't feeling great.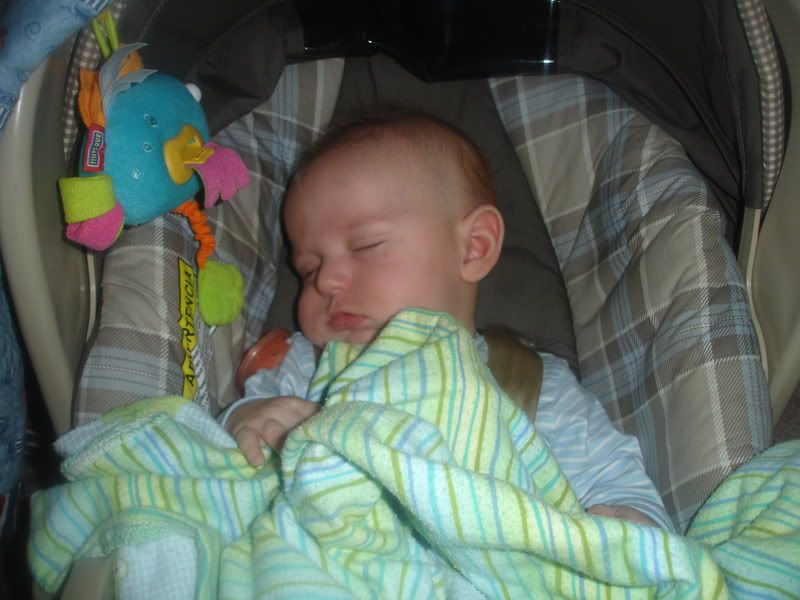 The job hunt is still on and Marshall had a phone interview with a company in Boise on Friday.  He's also got a couple other prospects in Arizona, Michigan, & Washington.  We'll see if anything comes from those.  He's trying to keep busy though, and decided recently to fix our car.  I should have taken pictures of it before he started fixing it, but I busted out the back taillight about a year ago and we lost half our bumper this winter.  Yes, it very much looked like a redneck car.  Marshall bought a new tail light & bumper and is over at his parent's house right now putting the new bumper on with his dad.
Yesterday we went and had Rowan's 3 month pictures done.  They turned out so cute and he was so smiley.  I will post them once they are available online.
That's all for now.  The boys are napping, guess I should get one in before work.