A picture of a picture -that's why I have the lovely glare on the right side.
As many of you already know, I have a history with pageants. I did Jr. Miss in high school, won Miss Idaho Falls in 2002, competed in the Miss Idaho pageant, and then also did Miss Rexburg and was a runner up there. After I did Miss Idaho Falls, lo and behold I wound up in the
Wall Street Journal.
    I spent my year as Miss Idaho Falls promoting  my platform "Understanding and Empowering Individuals with Disabilities"   It was a huge growing experience for me and really a lot of fun.  It is a scholarship pageant so scholarship money I won paid for my whole Junior year of college.
A year ago my mom told me about a judging seminar to get on the preferred judges list for Idaho. We went to the seminar which was very informative. I know there are quite a few people on the list so I wasn't necessarily expecting to get to judge a lot. I got a call at the first of the month from the lady who was the judge's chairman for the Miss Pocatello/Miss Eastern Idaho pageant. She said she had someone recommend me to judge. I was flattered as I don't think she realized even though I was VERY familiar with pageant scene, I was a novice judge. There were 5 of us judging, 3 women & 2 men. They have a celebrity judge now as the fifth judge who is someone who is well known in the area but isn't necessarily qualified to judge a pageant. Liza Raley from KLCE was the celebrity judge. She was hilarious and really fun to be around. The other judges were great as well. Although there were only 7 girls, I was really impressed when we began the interviews. Most of the girls were really smart and witty. Marshall was a great trooper to come with me and bring Rowan. I didn't think I could go a 8-9 hour stretch without feeding him so they came along. Marshall had pulled an all nighter the night before trying to get their AAF campaign done so by the time we got home Saturday night, he hadn't slept in 2 days. Poor guy. I think he is recovering though.  They took us out for dinner before the pageant started and Miss Idaho was there as she attends all the local pageants and performs her talent.  It was fun to talk to her about her experience at Miss America.  
At the end of the night one judge was making the comment on how fun she thought judging was and that it can get addicting. I totally agreed. I loved being on the other side where I got to help choose the winner instead of being the one who was judged.  Here are a couple more pictures of my pageant days....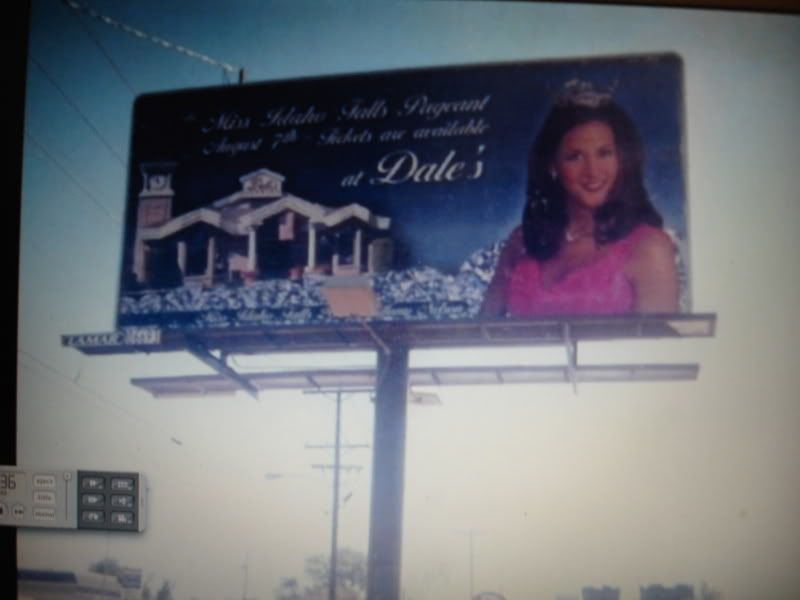 A billboard advertising the pageant the year I gave up my title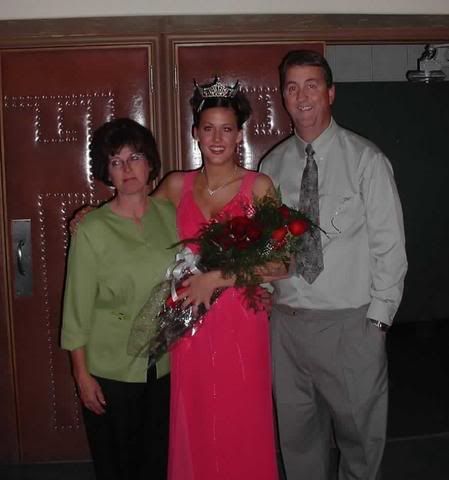 With my mom and dad after Miss Idaho Falls
I was just a "little" surprised when I won, alas the tear streaked face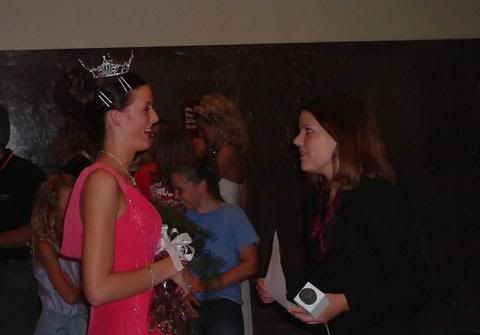 Being interviewed by the news