I love to run, I really do. And I've decided I really like half marathons. They aren't so long that you feel like you are going to die, (aka the marathon I ran last year) but 13.1 miles is also a challenge and a test in and of itself when you get down to the last couple miles. I signed up for this marathon around New Years, simply to give me a goal. I like to have races to train for because then I'm a lot better about exercising. My mom, sister, and sister in law also signed up. A few weeks ago, I decided I wasn't conditioned for this race like I wanted to be. Life is simply too busy that I was lucky to get 2 maybe 3 runs in a week.
It was freezing, and snowing during the first part of the half marathon. I'm not sure how cold it was exactly, but cold enough to snow. I'm glad that I dressed warm. I got into a groove and stuck around an 11 minute mile almost the entire time. We ran through the Thanksgiving Point gardens and all around the golf course. It was definitely challenging with tons of steep hills, but was so so pretty. When I run outside here in Eagle Mountain, all I run are hills, so it was fun to pass people up who had to walk them. :) I also kept my hat and hoodie on the entire time, which lets you know that it never got much warmer.
My brother Jason and Marshall and the boys were cheering us all on at the finish line. I finished in about 2 hours and 28 minutes which means it was about an 11'15" mile. I actually felt great after the race and will be sore for a few days but that is to be expected.
While we were waiting for everyone else to come in, the boys played on blowup toys, and met the Chick-fil-a cows. Silly cow decided to sit in my stroller at one point which I wasn't exactly happy since the weight limit is like 90 lbs. He then posed behind it and pushed it around a bit. Strange but funny.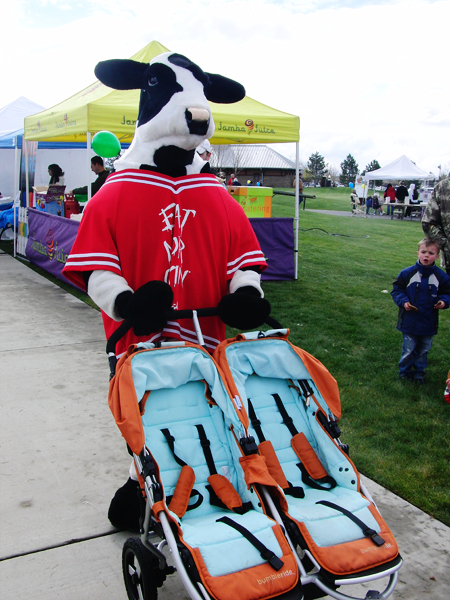 Mom, Lia and Avry coming down the homestretch!!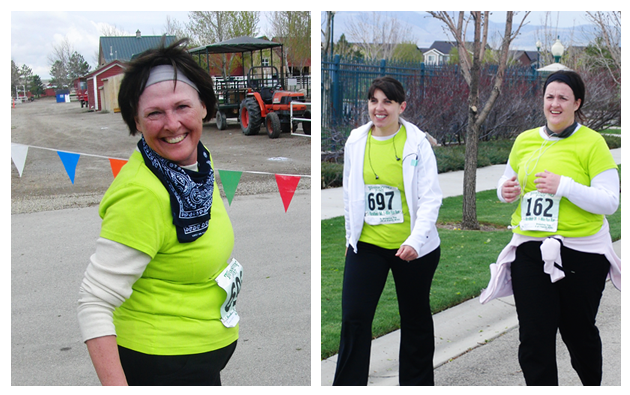 We got some great shots together when everyone came in.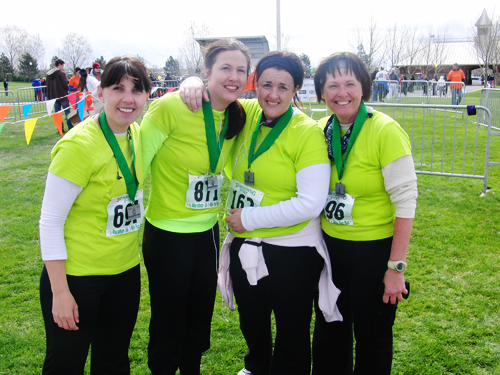 We all had matching shirts that said, "How is my running? 1-800-RUN-FAST." Ha! (I dare you to call the 1-800 number.)
It was a fabulous run and I love being able to do with family. Can't wait until the next race, whatever that might be.