Although we were up in Idaho just two weeks ago, we went up again Easter weekend for my dad's birthday and Easter. His birthday happened to fall on Easter this year. I worked Friday night, so we headed up bright and early Saturday. I didn't get much sleep on the way up, but the girls were planning on crafting Saturday afternoon while all of the guys went to shoot guns, so I operated on less than 2 hours the entire day. Avry had stuff to make charms for necklaces. They were super easy and so fun to make.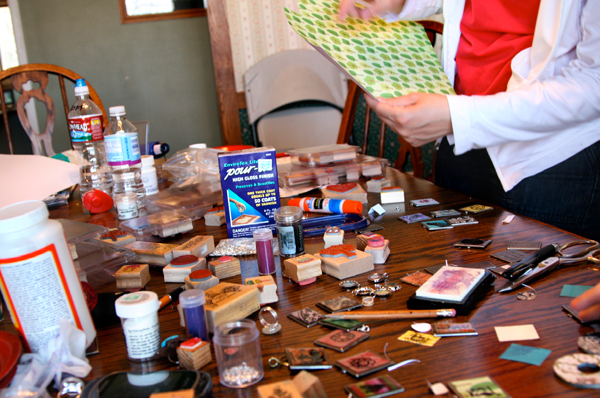 The afternoon got away from us quickly! That night, all of the men helped dad sheet rock in his lawn mower room that he is refinishing. The boys had so much fun playing with their cousins, and I think this is one of the first times I haven't felt stressed the entire trip because I was always worried about my kids. We still had to keep a good eye on Rowan, but he's getting easier as he gets older. It was so nice!
Sunday we went to church and then came home to do a big birthday/Easter dinner for dad and an Easter Egg hunt. We all pitched in with the eggs and figured that we had about 179 eggs for 8 kids! My brother also brought full size Reese's eggs, so my kids came away with a haul of candy. My parents also hid 4 eggs for the adults, and I happened to find one that had $20 in it.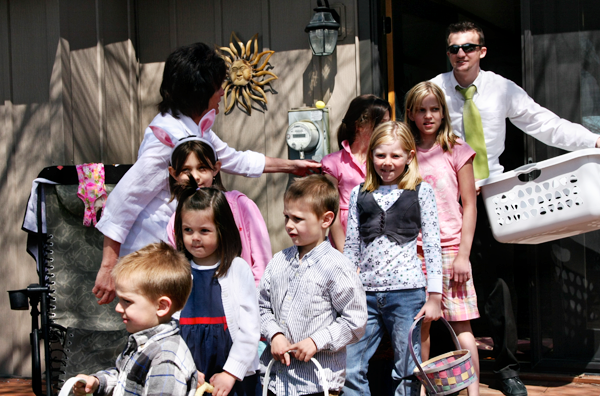 Dinner was incredible and it was fun to be there for my dad's birthday. He's definitely a great dad and I'm proud to be his daughter. I totally forgot to bring my camera this trip so I had some fun playing around with my dad's camera. He also gave me a little lesson while I was up there on photography which was fun. He's got some really REALLY nice equipment so it was fun learn a little more.