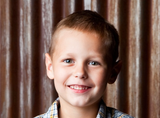 Chan,
It's hard to believe that you are 6 years old today. I look back on the last 6 years and it's been some of the best of my life. Our whole world changed when you were born. This last year I've seen you grow and stretch in so many ways. You started kindergarten just a few months ago and can already write your name, all of your letters, and are starting to read. You're so smart and I'm surprised at how quickly you catch on to things.
You have really mellowed out the last few years and are a really good boy. You are a great helper and listen really well.
You've lost your first two teeth in the last 3 weeks, both your bottom. Just another realization for me that you are growing up. You're definitely a mama's boy and always want to sit next to me at the dinner table, will hold my hand if I lay by you before bedtime, and are always good to give me hugs and kisses. You are a great example for your little brother and are so patient with him.
You love to play the ipad, loved going swimming countless times this summer, and love playing with other kids.
Your favorite foods have not changed much and include corn dogs, and bean burritos. You and your brother are really into superheros and especially transformers. You are really witty and say the funniest things right now.
Thanks for being you and for being such a wonderful little boy. Dad and I love you. More than you'll ever know.
Love,
Mom