I can't believe it's been close to 3 weeks since I posted. That's unlike me! Just busy I guess. Most nights when I get home from clinic, I'm too tired to do anything. I make a conscious effort to try to get a run in because usually it gives me a bit more energy. School is going well. I can't believe I have 6 weeks down already! I usually only have 1 day off a week so I definitely need to make the most of it. Today I tackled a mountain of laundry. I'm on load 6 and only have 1 more load to do. :) Also went full out grocery shopping for the first time in a month. My house still looks a bit like a disaster but that's because I needed to get out and actually spend some time with the boys. If I get free time, you bet I'm going to soak in my little boys.
After Chan got home from kindergarten today, we packed lunches and headed to the splash park. We have a huge park/splash pad only a block from our house. It was a perfectly beeautiful day, in the low 80's which is nice for the end of September. The boys played for close to 2 hours and I enjoyed actually being outside.
Eating lunch. Nutella and pb for Chan. He loves nutella right now.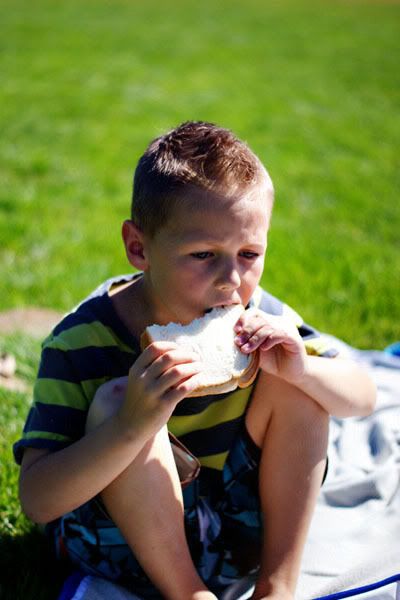 Playing on the splash pad. Isn't it a pretty day?

Amazing what fun a plastic baggie can create.