I had a dr.'s appt this morning. I love going in the morning because it seems like I am in and out in about 20 minutes which was nice. There are 3 OB's in the practice that I go to so I saw one today I haven't seen yet, but I know him from working up in the Mother Baby Unit at the hospital. I didn't think that I really had any questions, but he asked if I'd had indigestion or heart burn. I told him I'd had a lot of indigestion and told him I'd been having pain right below my chest. He said it was my stomach acting up and if it got to the point where it was keeping me up at night he would put me on Zantac. (sp?) I just assumed that this was part of the territory with this pregnancy. I'm going to wait it out and see how this month goes. I have been waking up a good amount at night because my stomach hurts so bad. Tums helps sometimes but Maalox tends to make me nauseated and I end up throwing it back up. I have my glucose test in 2 weeks so I hope that goes well. As always, I love hearing the "woosh, woosh, woosh" when they put the doppler on. That's a great sound.
I was pleasantly surprised to weigh in at 150, meaning I have only put on 4 lbs in the last month, bringing my total weight gain to 10 lbs. I just hope I don't get up to 190 like I did with Chan. That's hard on the knees! I say all of this as I have just finished eating a bag of sour punch bites & tons of cookie dough. Knock on wood!

Chan & I went to the park the other day while waiting for Marshall to get off work. He's just such a cute kid I can't help but take lots of pictures of him. Marshall is busy busy and it seems like we don't see him a lot. He's working 30 hours a week and has 17 credits. He's superman if you ask me!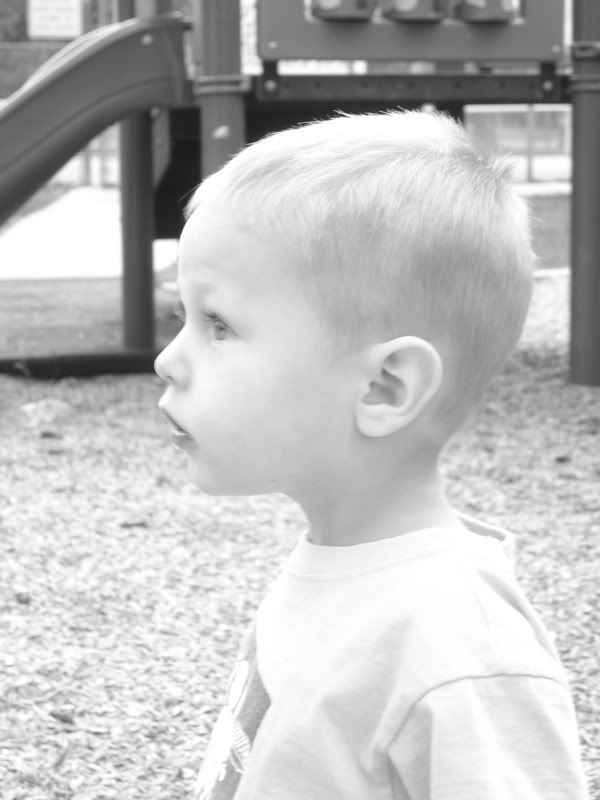 I started bowling last week on the ladies league with my mom. There are 3 to a team and it's a fun outlet for me. I have my own ball & bowling shoes so you could pretty much say I am a professional....lol - yeah right. My average tends to be right around 120 which isn't wonderful, but isn't horrible either. I did bowl a 157 yesterday on my first game which was fun. At one point, I got into it a little too much because I think I pulled my groin muscle on the right side. It's really sore today and really hurts to walk. That awesome bowling score was worth it though :) My high is just over 200 which I bowled 2 years ago, maybe I'll be able to do that again someday!

And other news.....we are getting a 2nd vehicle!! Well, something that runs anyway, lol. We've only ever had one car, so I'm somewhat used to be stranded at home most of the time. I had a feeling that I was going to go a little stir crazy this winter being at home all the time with 2 kids. Marshall's days start at 7 or 8 every morning and I have no desire to pull a 2 year old & a newborn out of the car to take him to school/work so I can have the car. Yesterday my mom mentioned that my dad had bought a new truck and they were selling the old one. I immediately hopped on it and asked how much they wanted for it. We got a great deal (thanks mom & dad)! It's a 1991 GMC....uhm....don't know the model, lol. It's a small 2 wheel drive truck that runs. It runs - that's all I care about. We are going to have to put new tires on it but that is a-ok with me.

My mom came up to watch Chandler today while I went to my dr.'s appointment and even cleaned my apartment while she was here. How nice...I know. We went to lunch and chased Chandler around a couple stores, fun fun.


I also thought I would share this video of Chandler. We have this cheap baby heart monitor that I've never gotten to work, but Chandler thought it was pretty cool. You listen through headphones and if you put in on your belly, it is supposed to pick up the baby's heartbeat. We didn't get a heartbeat, but Chandler heart my tummy digesting and got a couple kicks out of the baby. Cute stuff.
Photo Sharing - Video Sharing - Share Photos - Free Video Hosting

Oh and him with his "baby" that Marshall bought him. It is the ugliest, scariest thing & Chan is fascinated with it!