One family reunion that we try to attend every year is my grandma's. (My dad's mom.) Although she's passed on, we still go to the reunion, and this year my aunt's family was in charge of it. It was in Lava Hot Springs, ID. It's normally all weekend, but we just went for Saturday. It was close to a 3 hour drive for us. We got up there just after lunch. We had planned on going swimming, but after seeing like 500 people at the pool, we decided we weren't going to do that. Floating the river is something that a lot of people like to do, and my mom said she would watch our boys, so we walked up to one of the tube rental places. On the way, we saw a cousin that had broken her toe. Then a few minutes later, we saw my dad and brother Geoff. They were all beat up and had some pretty good cuts up their arms, legs, on their sides, etc. I guess my dad had fallen off, and they both got cut up trying to get him back on. It sounds like they dragged down the river for about a minute.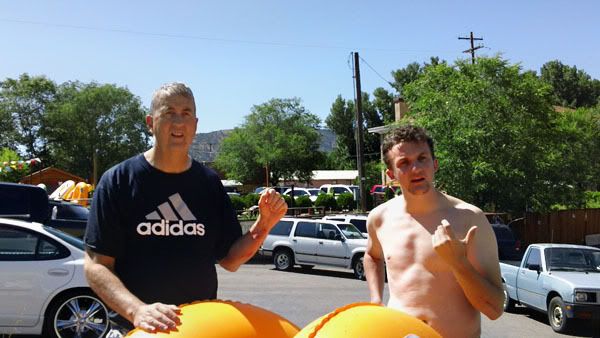 I was a little bit apprehensive after this, but we finally decided that if we got a 4 person tube, it would be less likely for us to tip. Marshall, Geoff and I ended up going down the river 3 times and it was actually really fun, with no tipping of tubes or falling off.
The family reunion had a Harry Potter theme, so when we got back, we were separated into our houses and played quidditch. (I'm sure I spelled that wrong.) Then it was dinner and the auction which is of course fun every year.
Picture of mom, Avry & me, with brother Geoff in true Nielson style. HA!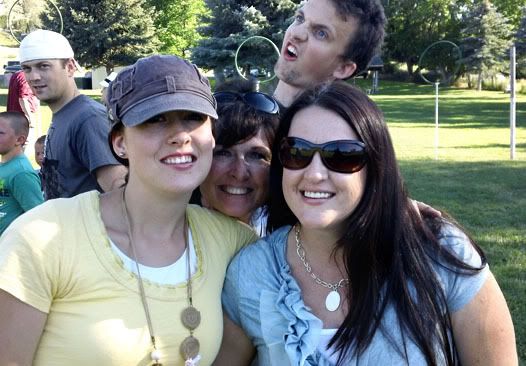 It was another late arrival home as we didn't get in until 1, but once again I'm glad we went. In 2 weeks we are headed to Bear Lake for 4 days for another reunion which I am super excited about. Love summer!